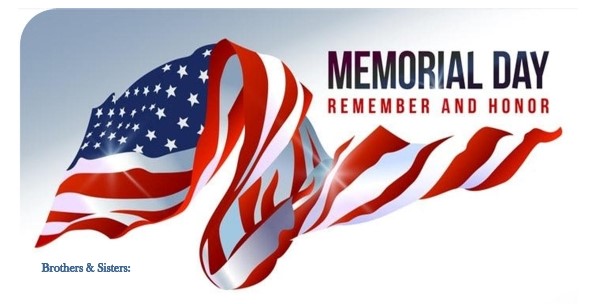 Memorial Day is an important time of year for many reasons. It is a time to honor the sacrifice military members and their families have made for our country's freedom and safety. Many of which gave the ultimate sacrifice, their lives. We send a special thank you to our members who have worn the uniform.
During this pandemic we also want to honor our frontline workers, who are working tirelessly responding to COVID-19. We horror and appreciate ALL essential workers who are keeping our country 'going" during this difficult time.
While we horror this important day, the way we celebrate will look different this year. This year's celebrations will look different in order to mitigate the spread of COVID-19. We expect some gatherings to be vital or even moments of silence. However you decide to honor the sacrifice of our military and frontline workers, we encourage you to do it safely. We appreciate all your hard work. Continue to stand strong, be safe and healthy.
In Solidarity,
President, Debbie Medina
Executive Vice President, Lori Griffith
Secretary-Treasurer, Dale Feller
Vice President, Marlene Jimenez
Vice President, Corinne Villa
Bookkeeper, Sheryl Sullivan
Secretary, Julie Spears