| | | |
| --- | --- | --- |
| Welcome | | You are not currently logged in. |
| | | |
| --- | --- | --- |
| | | |
| | | |
| | | |
CWA Local 7777
2017 Final Officer Election Results
(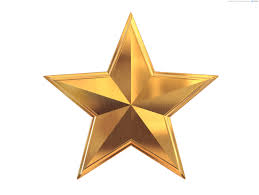 = Elected to Office)
| | | | |
| --- | --- | --- | --- |
| OFFICE | | CANDIDATE NAME | NUMBER OF VOTES |
| PRESIDENT | | Debra Medina | 212 |
| | | Audrey Deguio | 95 |
| | | | |
| EXECUTIVE VICE PRESIDENT | | Lori Garcia | Acclamation |
| | | | |
| SECRETARY/tREASURER | | Dale E. Feller | Acclamation |
| | | | |
| PUBLIC SECTOR - VICE PRESIDENT | | Marlene Jimenez | Acclamation |
| | | | |
| PRIVATE SECTOR - VICE PRESIDENT | | John Cataline | Acclamation |
| (2 positions) | | Corinne Villa | Acclamation |
| | | | |
| EXECUTIVE BOARD | | | |
| DENVER PUBLIC SCHOOLS | | Anna Guerrero | Acclamation |
| | | | |
| DEX | | No Nominations | |
| | | | |
| AVAYA | | Brian Buyaki | Acclamation |
| | | | |
| AT&T MOBILITY | | No Nominations | |
| | | | |
| AT&T DirecTV | | Keith Weinstein | Acclamation |
| | | | |
| SEIU | | No Nomination | |
| | | | |
| GREEN TAXI | | No Nomination | |
| | | | |
| TERRY & CAREY CATERING | | No Nomination | |
| | | | |
| FIRST TRANSIT | | No Nomination | |
| | | | |
| DOLLAR THRIFTY | | No Nomination | |
| | | | |
| CenturyLink | | Chuck Griffith | 187 |
| (3 positions) | | Sheila Lieder | 128 |
| | | Gregg Sherwood | 120 |
| | | Joyce Sisneros | 140 |
| | | Kathy Southern | 153 |
| | | | |
Sincerely,
| | |
| --- | --- |
| | |
| Susan Ryke | Linda Harris |
| Co-Chair | Co-Chair |
| Election Committee | Ellection Committee |
| CWA Local 7777, afl-cio | CWA Local 7777, afl-cio |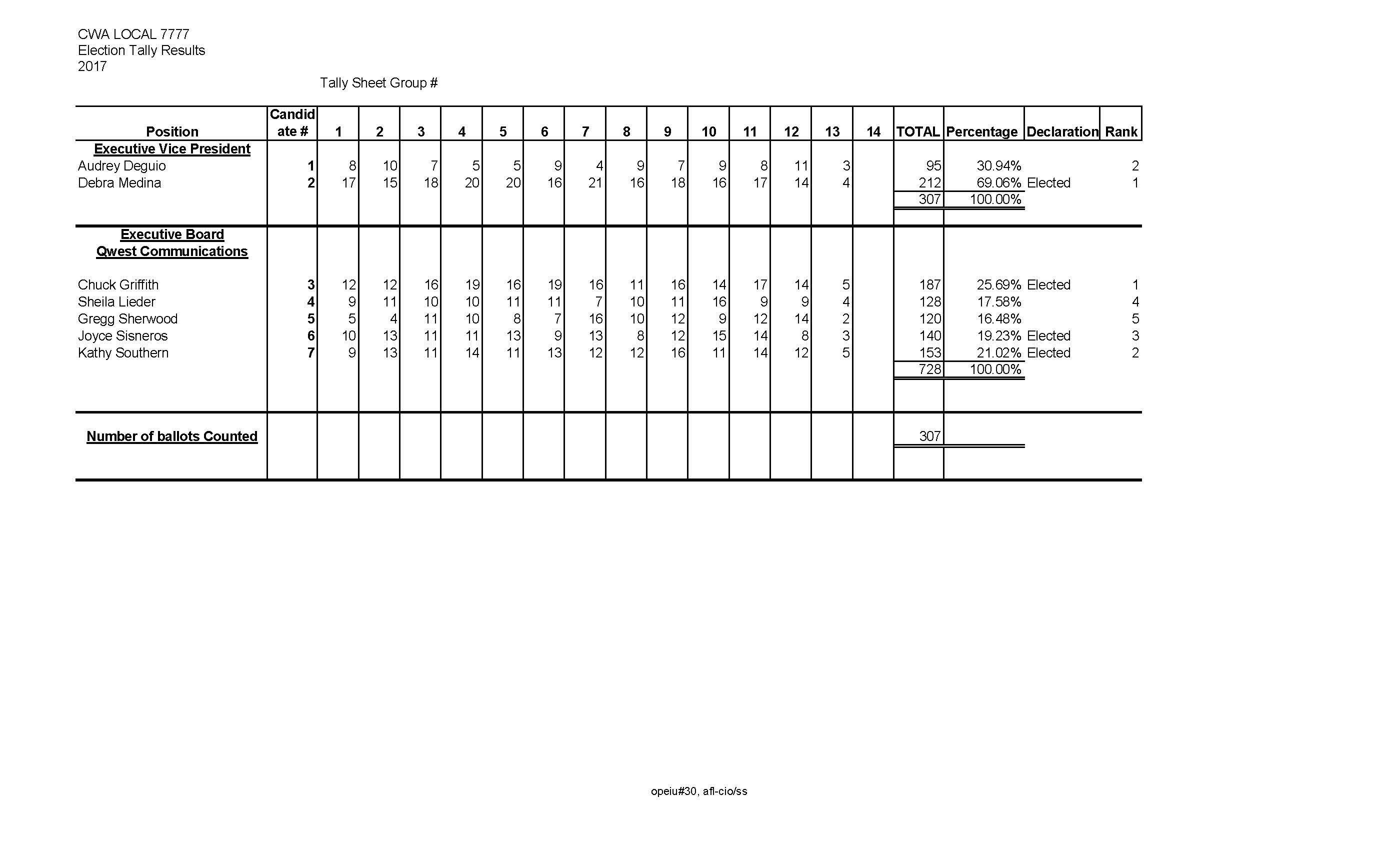 SR-LH/jas
opeiu#30, afl-cio
CALL SENATOR GARDNER AND ASK HIM TO OPPOSE THE TAX BILL. 1-888-907-9365
The House of Representatives passed their tax scam bill on a vote of 227-205. The vote can be found on the link below:
http://clerk.house.gov/evs/2017/roll637.xml
13 Republicans voted with us along with all Democrats.
| | | | |
| --- | --- | --- | --- |
| Donovan – NY | Zeldin – NY | Stefanik – NY | King – NY |
| Faso – NY | Frelinghuysen – NJ | LoBiondo – NJ | Lance – NJ |
| Smith – NJ | Jones – NC | McClintock – CA | Issa – CA |
| Rohrbacher – CA | | | |
The fight now moves to the Senate. The Senate finance committee completed work on their bill and sent it to the full Senate. This bill would lead to taxpayers making less than $75,000 a year receiving a tax increase by 2027. Most workers making less than $100,000 a year will not see any tax cut or a may receive a tax increase. Meanwhile the tax cuts for corporations and the 1% are made permanent. https://www.vox.com/2017/11/16/16665958/jct-analysis-senate-gop-tax-plan
The good news is that as more and more people are focused on the details of the tax plan, opposition is growing - from the public and Senators. Already, one Republican Senator has come out against the bill! Ron Johnson of WI opposes it currently because it doesn't do enough to help hedge funds. He is opposing for the wrong reason, but we'll take it. More concerns from other Senators are being raised. We have a real shot to kill it or slow it down in the Senate. We need your help. We need to call, show up at Senator Cory Gardner's town halls and write letters to OPPOSE it. As CWA says "IT TAKES ALL OF US!!"
CALL SENATOR GARDNER AND ASK HIM TO OPPOSE THE TAX BILL. 1-888-907-9365
Thank You
&
SOLIDARITY

Sheila Lieder
Communications Workers of America (CWA) 7777
CO/WY Legislative & Political Director
303 781-8700 xt224
  2017 CWA Local 7777 Election Nominated and elected at-large for Local 7777 Officers and Convention Delegates  will be President, Executive Vice President, Secretary-Treasurer, two (2) Private Sector Vice Presidents and one (1) Public Sector Vice President. Read More...
CWA
CO/WY STATE (S) Council 2017 Municipal endorsements
Hello Sisters and Brothers- I am letting you know the Communications Workers of America Colorado/Wyoming State(s) Council met to discuss the endorsements for the School Board Elections and Municipal races. We decided which races we should get involved with and which ones to stay out of. With a limited amount of members contributions to the Political Action Funds (PAF) for candidates and resources we looked at the most important races that could impact our members the greatest. Please pay special attention to the Municipal Endorsed sheet to see who endorsed in that race; CWA, AFL-CIO or both.
Remember: "The World is Run By those Who Show Up & VOTE!
Sheila Lieder
CO/WY Legislative and Political Director
303-781-8700 X224
Download:

Endorsements 10.30.2017.pdf
| | | |
| --- | --- | --- |
| | Map | |
| | Phone: 303-781-8700 FAX: 303-789-3325 Hotline: 303-761-2929 | |
| | | |