| | | |
| --- | --- | --- |
| Welcome | | You are not currently logged in. |
| | | |
| --- | --- | --- |
| | | |
| | | |
| | | |
Outsourcing of American Jobs Hurts all of us.
STOP
THE
WAR
ON
COLORADO
W
RKERS
Avaya Inc is outsourcing Colorado Jobs. Outsourcing hurts families, students, homemakers, taxpayers, local business and our economy. Colorado taxpayers should not subsidize Avaya's profit margin, nor should they bear the burden of business failures, foreclosures, unemployment and higher taxes caused by outsourcing.
Avaya is owned by TPG and SilverLake. Both of these companies are private equity firms with $Billions in assets.
Contact TPG and SilverLake and tell them to keep our jobs in Colorado!
Sign this petition to The Colorado State House, The Colorado State Senate, Governor John Hickenlooper, The United States House of Representatives, The United States Senate, and President Barack Obama, which says:
"Stop the outsourcing of Avaya Colorado jobs."
Will you sign this petition? Click here:
US CALL CENTER WORKER AND CONSUMER PROTECTION ACT (H.R. 3596)
BRING CALL CENTER JOBS HOME
CLICK HERE FOR MORE INFORMATION AND TO CONTACT YOUR REPRESENTATIVE
CLICK HERE to view the commercial that CWA aired on CBS
Call Union Taxi for all of your transportation needs
Union Taxi drivers are members of CWA Local 7777!
Plan to attend the CWA Local 7777 Bowl-a-Thon Sunday, September 28th.
This is a fun family event.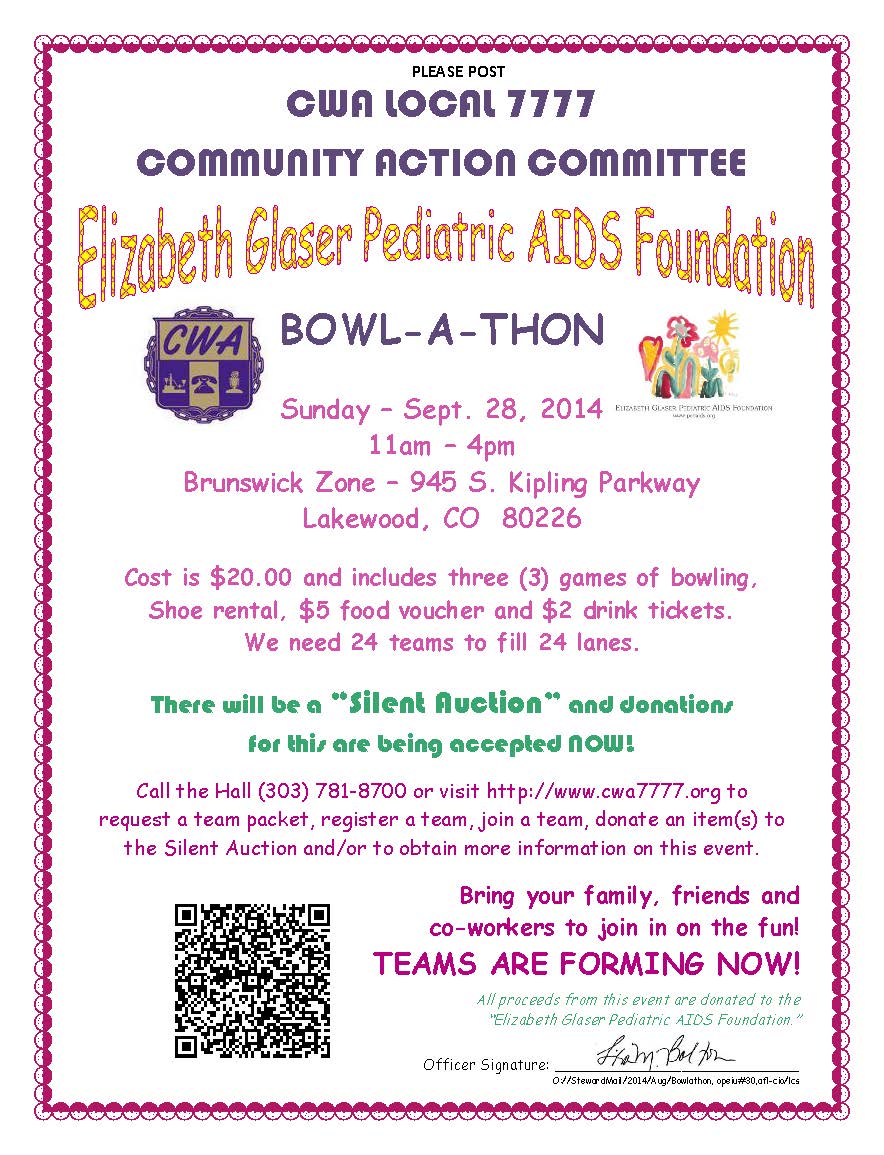 LABOR EXCHANGE @ KGNU HOST – DENNIS CREESE MONDAY, AUGUST 4, 2014 @ 6:00 PM MDT @ KGNU – 88.5 FM/1390 AM AND: www.kgnu.org "LIVE STREAM" http://www.kgnu.org/laborexchange INTERVIEW WITH: PHIL HAYES, STRATEGIC CAMPAIGNS & LEGISLATIVE DIRECTOR, COLORADO AFL-CIO 303-433-2100 X5605 (WORK) 720-324-2023 (CELL) 303-433-1260 (FAX) phayes@coaflcio. Read More...