Organizing Committee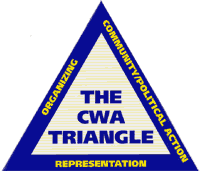 "Bring workers together to collectively act on their own behalf"
303-781-8700
More than 700,000 men and women in the United States, Canada, and Puerto Rico belong to our union – CWA – the Communications Workers of America.
We chose CWA because we wanted dignity, respect, and a real voice in our jobs, workplace, and company. Our union has a proven record of achievement for men and women working at small companies and in large corporations, and in state, county, and local government.
CWA has broken new ground in negotiating strong contracts, spelling out not only our wages, benefits, and working conditions, but also addressing issues that we face today: employment security, health care, the outsourcing and deskilling of our work, stress, training, and many more.
The key to CWA's history of success on behalf of its members and working people is that our union is rooted where we live and work – in some 10,000 communities all across the United States, Canada, and Puerto Rico.
CWA is one of the fastest growing unions in the country and Local 7777 is helping to head the way in strategically helping workers with no union to join with us. When we help others raise their standard of living, we add strength to all bargaining efforts and we add more influence in our communities. CWA's organizing strategy rests on educated and experienced Local Organizers and strong Volunteer Organizing Committees, supported by Staff and resources from the International Union.
Why a Union?
We deserve to be respected and treated well where we work. Every employer, from the smallest company to the largest corporation, and in state, local and county government, should treat us with dignity and respect, providing good pay, benefits and working conditions.

How to Organize
What is a union? A union is simply a group of workers who organized together for representation and collective bargaining rights. A union is not, as employers and some others falsely suggest some "outside" organization that comes into your workplace to get between you and your employer. The truth is, you and your co-workers are the union. You formed it.

Page Last Updated: Apr 15, 2011 (09:14:17)